Our Approach Is A Return To Nature & Cannot Be Imitated.
To achieve our approach, we knew we had to start with natural, raw materials and then formulate products for durability and performance without adding toxic chemicals. Unlike traditional acrylic paint products that use a synthetic petroleum process as their base, we started with potassium silicate and used cutting edge, clean, mineral based technology to create our mineral paints and plasters. We spent years collaborating with scientists and chemists to create our formulas, but always returning to nature to ensure the cleanest ingredients possible.
ROMABIO mineral paints are different because they form a crystalline structure that bonds with the surface.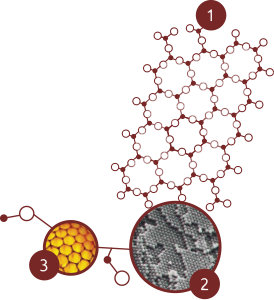 You can see their molecular crystalline shape (see diagram1 and microscope detail of a silicate2). This crystalline shape is just like that of a honeycomb3. These shapes indicate the natural structure of how our paint bonds when applied on a wall. The molecular shape permits a mineral paint to breathe and these crystalline structures mimic the reoccurring patterns commonly found in nature. A breathable wall is important because it permits moisture and air to move more freely in a closed environment. Mineral paints absorb CO2 acting like a magnet to attract air thus completing the cycle of micro-crystallization permitting a mineral paint to become harder with time. This creates a more durable paint and naturally mold resistant system.
Acrylic paints are not organic or natural products.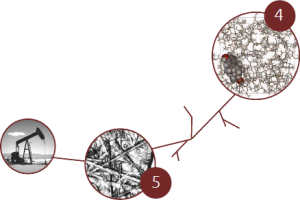 Traditional acrylic paints form an adhesive structure that sticks to the surface. There is no crystalline shape (see diagram4 and microscope detail of a polymer chains5 ) and as you can see the molecular pattern is closed. This means that an acrylic paint can never be breathable. Acrylic paint companies make claims that they are natural, organic, non-toxic, environmental friendly, but this is not backed by science. Acrylic paints' molecular structures are not BIO or natural. Painting your walls with an acrylic paint means that they will never breathe because it seals the environment. Painting acrylic is similar to wrapping your walls with cellophane, thus creating a perfect environment that traps humidity, toxins, and promotes mold growth.