Affordable, Easy To Use, & Lasts Longer
Compared to acrylic systems, BioDomus I & II are affordable at approximately $48/gal.*, easier to use, and will last much longer. These mineral based paints give you a high return on your investment (ROI) and due to the mineral content, they have superior coverage covering 20 – 25% more.
They are easier to use because it is a 2 coat system with no additional primer saving application time and equipment changes. The masonry surface should also be dampened prior to application, saving time if it rains or is a wet and damp environment. Apply with a brush, roller or sprayer like typical acrylics, and you can review the full specifications on the Technical Data Sheet.
*based on cost per gal. after dilution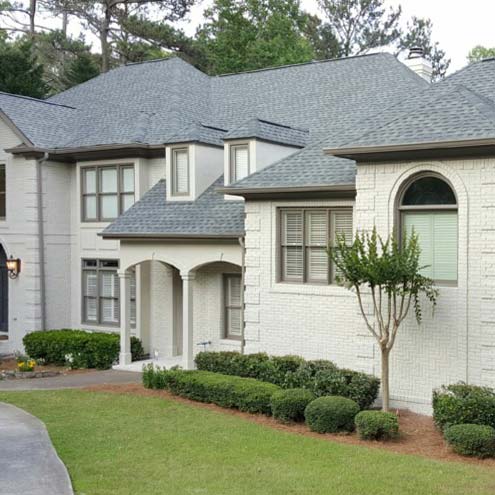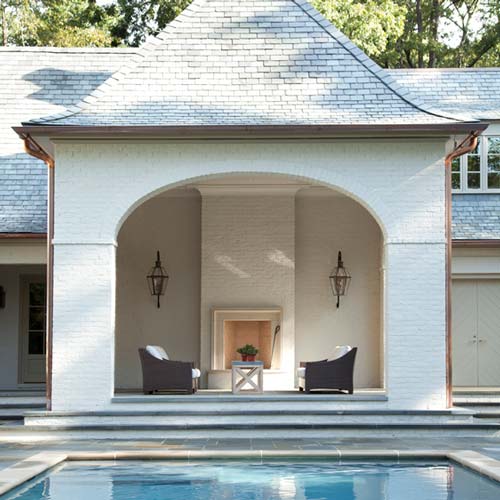 Get an amazing return on your investment with savings up to 200%!
Because BioDomus I & II are so durable and can last up to 15 – 25 years, this means less frequent applications, saving material and most importantly labor costs. You could save up to 200% during a 28-year period, even if you repainted three times. You wouldn't have to repaint that many times, but you might want to change up your color or look of your home.
Based on a typical 2-story brick home that is approximately 3,000 interior square feet, if you were to paint the exterior brick, the initial paint project might cost around $5,500** for both BioDomus I mineral based paint and a typical acrylic paint.
You may spend less on the BioDomus I product because of the exceptional coverage and the number of coats needed, but let's assume the initial paint product cost is the same.
However, the big savings comes with repaints. Because BioDomus I will last much longer than a typical acrylic paint, you won't have to repaint as many times, giving you huge savings on labor and even materials. Since acrylics tend to degrade the surface and structure, repaints will often cost more because you have to use high-performing primers and more paint just to make it the look the same as the first time you painted.
You can see in the chart below that you would spend almost 2x more if you used an acrylic based system over a 28-year period, assuming you would have to repaint every seven years for typical acrylic paints, and only every 14 years for BioDomus I.
**based on product + labor which labor costs can vary widely by region
Repaint Costs Typical of a 2 Story Brick Home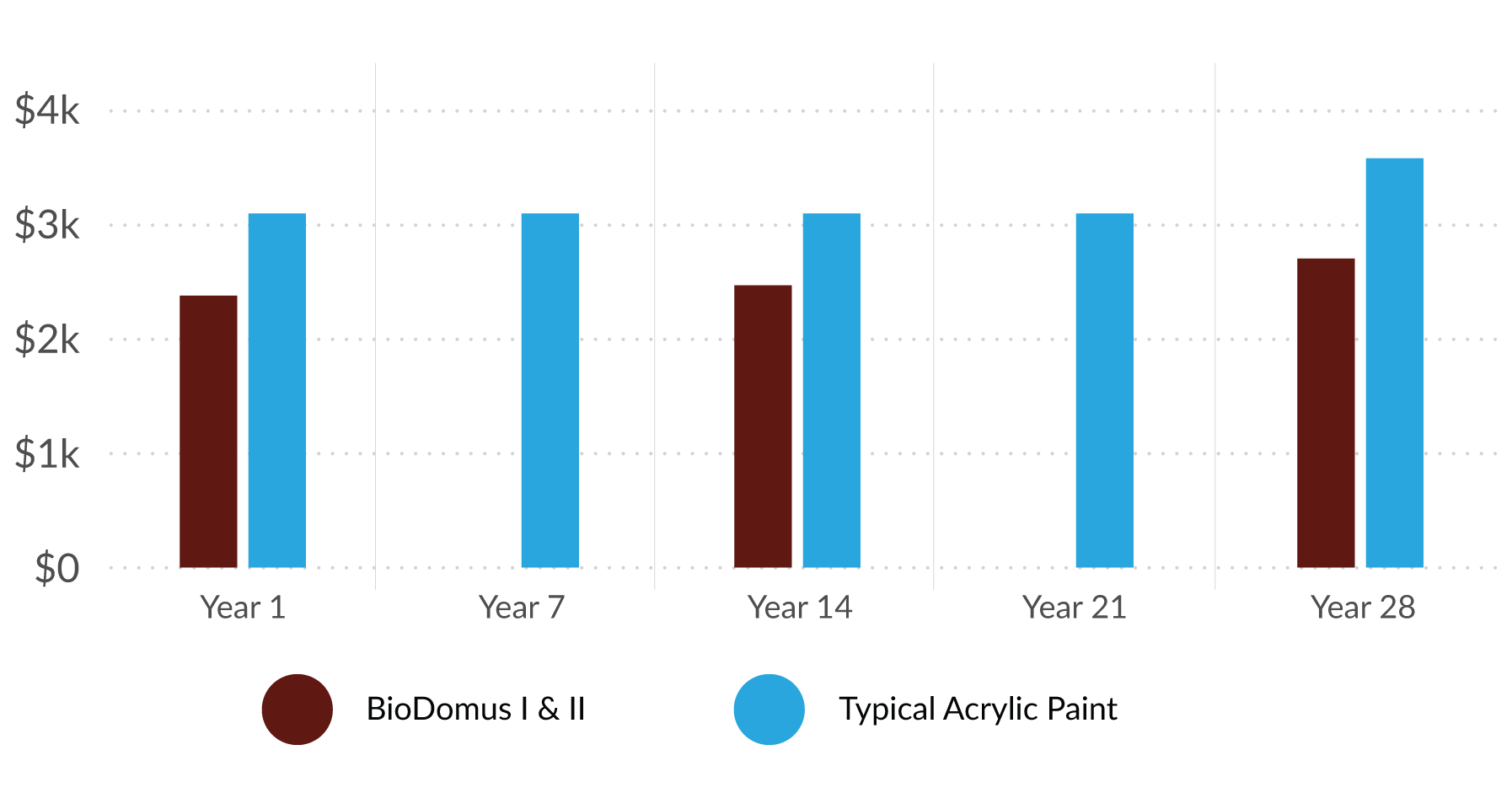 Customer Review
"I did a side-by-side comparison of the BioDomus product and one of your competitors and found that it had much better coverage. The BioDomus product adhered to the surface better too, and wouldn't scratch or chip off. We are really pleased with it and with only two coats needed, it has better value and performance."

– 
Color Options
BioDomus I & II have dynamic color refraction due to the mineral content. Color palettes are more vibrant providing more depth and light, and they look more natural when painted on masonry surfaces. Color possibilities are unlimited as we can match other color palettes or you can choose from over 200 colors in the ROMABIO color deck.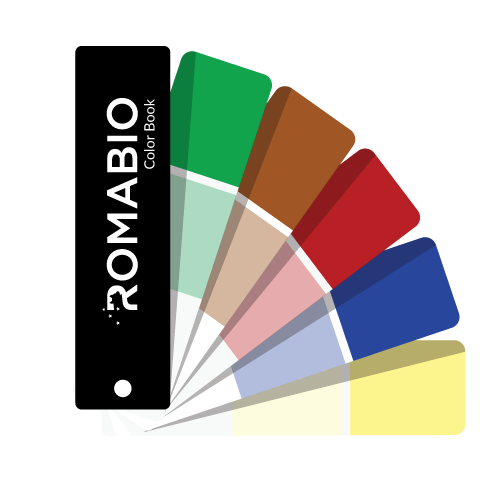 Free of added APEO, PEG, PEO, formaldehyde, and do not contain solvents, phthalates, styrene, amines, free monomers, endocrine disruptors and biocides, as well as other toxic chemicals found in traditional acrylic paint. True Zero VOC (0.00) products, and with 3rd party reports verifying our marketing claims, you can trust our paint is safe for you, your family, and the environment.

By continuing to use the site, you agree to the use of cookies. more information
The cookie settings on this website are set to "allow cookies" to give you the best browsing experience possible. If you continue to use this website without changing your cookie settings or you click "Accept" below then you are consenting to this.