Take your Home to "Wow"!
Old World Feel or Modern Finish
Classico Limewash is an authentic Italian slaked-lime paint designed for distressing brick or stone. Upgrade your curb appeal or outdated fireplace in 3-easy-steps, no primer needed.
HOW DOES IT WORK?
Designed for unpainted, absorbent brick or stone, Classico Limewash is easy-to-use and can be distressed within the first couple of days of application. This authentic lime wash is breathable and calcifies to unpainted masonry surfaces. It works naturally with the surface and will not chip, peel or flake off.
HOW TO APPLY
PREP Prepare and clean the surface. Dampen masonry surface with water.
DILUTION Product must be diluted prior to application.
COATS 1 Coat
TOOLS Apply with a brush, or pro-grade airless sprayer.
DRY TIME 10-60 Minutes
TOUCH UPS Very flat finish. Easy. Can be done any time.
NEED A PRO PAINTER?
Romabio has a huge network of experienced Preferred PRO Applicators who have technical training and love to use our products. Fill out this form and we will connect you with a PRO.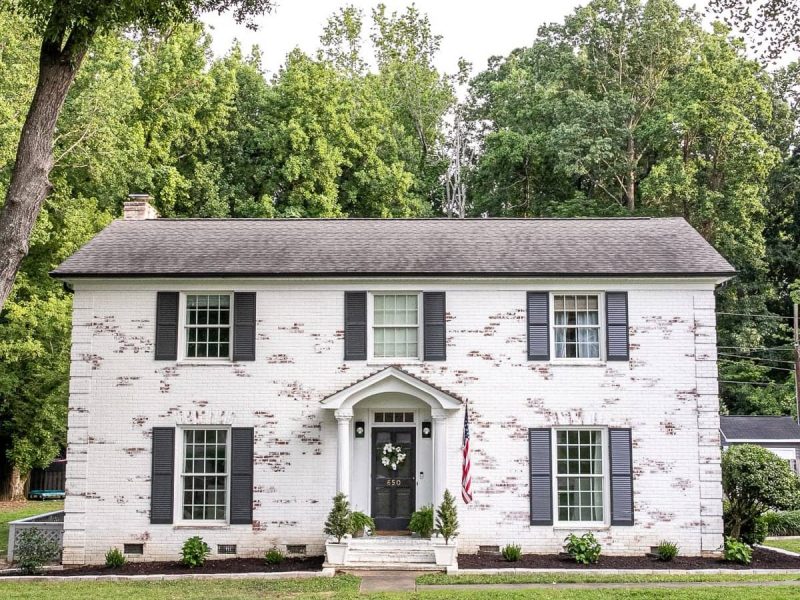 Inspiration from
Bless'er House
DIY Blogger Lauren Shaver fell in love with
Classico Limewash in Bianco White when she used a Romabio Preferred PRO Applicator to paint the Exterior of her colonial brick home.
"I'm a sucker for that European Limewashed Brick"
– Lauren Shaver of Bless'er House
Crafted in Italy
Founded in 2009 and headquartered in Atlanta, GA, Romabio has been on a mission to change the way the world makes paint. From the beauty of Classico Limewash to the durability and performance of the Masonry paints, to authentic Italian Plasters, Romabio designs elegantly luminous products with beauty like no other all while educating consumers on the benefits of choosing the best product for their surface type.