.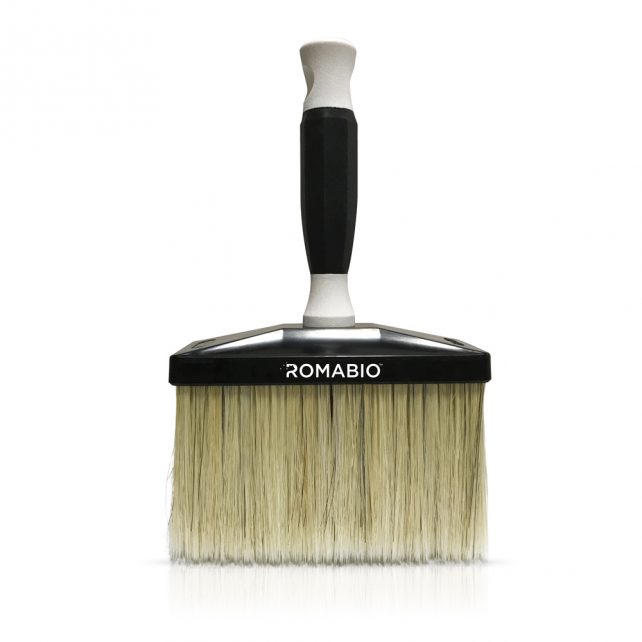 Small Masonry Brush
Available Colors:
Small Masonry Brush


Color Description
HOW TO CHOOSE COLOR
Product Description
Our handmade, high-quality, small masonry paintbrush is specially designed for the application of mineral and lime-based paints including Classico Limewash on brick and other masonry surfaces. It is perfect for fireplaces or small walls and is designed to hold twice as much paint to cut application time in half for larger surface areas. Synthetic bristles are specifically designed to withstand high-pH paints for repeated use. Buy Now on Amazon.
Handmade, small masonry brush for use with high pH mineral and lime-based paints
Cup design and bristles allow for anti-drip and no mess
High-quality bristles allow for precise and easy cut-ins
Easy clean-up with soap and water when using mineral and lime-based paints
Specifications
Brush head material: Synthetic
Brush head height(in.): 3
Brush head width (in.): 4
Handle Length (in.): 5.7
Head shape(s): Flat
Product Weight (lb.): 1 lb
"I used this brush to paint my stone and brick fireplace. It was easy to use and provided great coverage."
– JC, Home Depot Customer
Environmentally Friendly
Romabio Paints are BIO (bio-logical), made from nature. They are not acrylic or latex paints. They are mineral-based products different than any other paints in the industry and are derived from sustainable materials to create a natural, breathable coating.

"I highly recommend this brush for limewashing. This brush is more expensive than the comparable products but the quality makes it worth every penny!"
-Elle B, Home Depot Customer