.
Fireplace Kit
Buy Now

Available Colors:
Avorio White
Color Description
The perfect neutral white that works with cool and warm tones
Due to computer processing, actual colors may vary from those shown here.
Available Sizes
1L/1QT 2.5L/0.67GAL
HOW TO CHOOSE COLOR
Product Description
Romabio Fireplace Kit includes Classico Limewash®, Small Masonry Brush, stir stick, and bucket opener. Classico Limewash paint is an authentic, slaked-lime paint that can be easily applied to unpainted brick or stone fireplaces without a primer. In 3-easy steps, you can instantly create an authentic limewash look exposing as much or as little brick or stone as you desire.
Transform your fireplace in one day.
Easy to use, 1-coat paint process, no additional primer.
Choose a distressed or solid modern look.
Handcrafted in Italy with Dolomite lime using 2,000-year-old techniques and modern technology.
Non-flammable, toxin-free, and environmentally friendly.
Available in colors Avorio White or Bianco White.
Surface Type
Interior/Exterior Absorbent, Unpainted brick or stone (No Primer needed)
Coverage
| | |
| --- | --- |
| 1 Coat | 2.5L/0.67GAL |
| Square Feet | 200 – 250 SQ FT |
Application Requirements
PREP Prepare and clean the surface. Dampen masonry surface with water.
DILUTION Product must be diluted prior to application.
COATS 1 Coat
TOOLS Apply with Romabio Small Masonry Brush (included) and distress with spray bottle with water and rags (not included).
DRY TIME 10-60 Minutes
TOUCH UPS Very flat finish. Easy and can be done at any time.
"I love the way the dark brick peeks in from underneath the fresh white limewash. It gives both an updated and an old look at the same time, like I said before it's one of the best things about this product! I am thrilled with how it turned out! –Susan Daggett, Kindred Vintage
Customer Reviews
"The limewash was easy to apply and turned out so well on our out-of-date rock fireplace. It turned out beautifully and only took about a half of a day to accomplish the job. We love the results."
"The product is very forgiving, and I love how much working time you have."
"My wife and I transformed our red brick fire place in around 3 hours."
"Loved this paint. No odor and love the new look of my fireplace"
"A very inexpensive way to update the space. I have already recommended the product to friends."
"I highly recommend getting the Romabio brush. We tried cheaper paint brushes and they were much more difficult. Well worth the money! Love this product and highly recommend it for your next home project!"
Environmentally Friendly
Romabio Masonry Paints are BIO (bio-logical), made from nature. They are not acrylic or latex paints. They are mineral based products different than any other paints in the industry and are derived from sustainable materials to create a natural, breathable coating.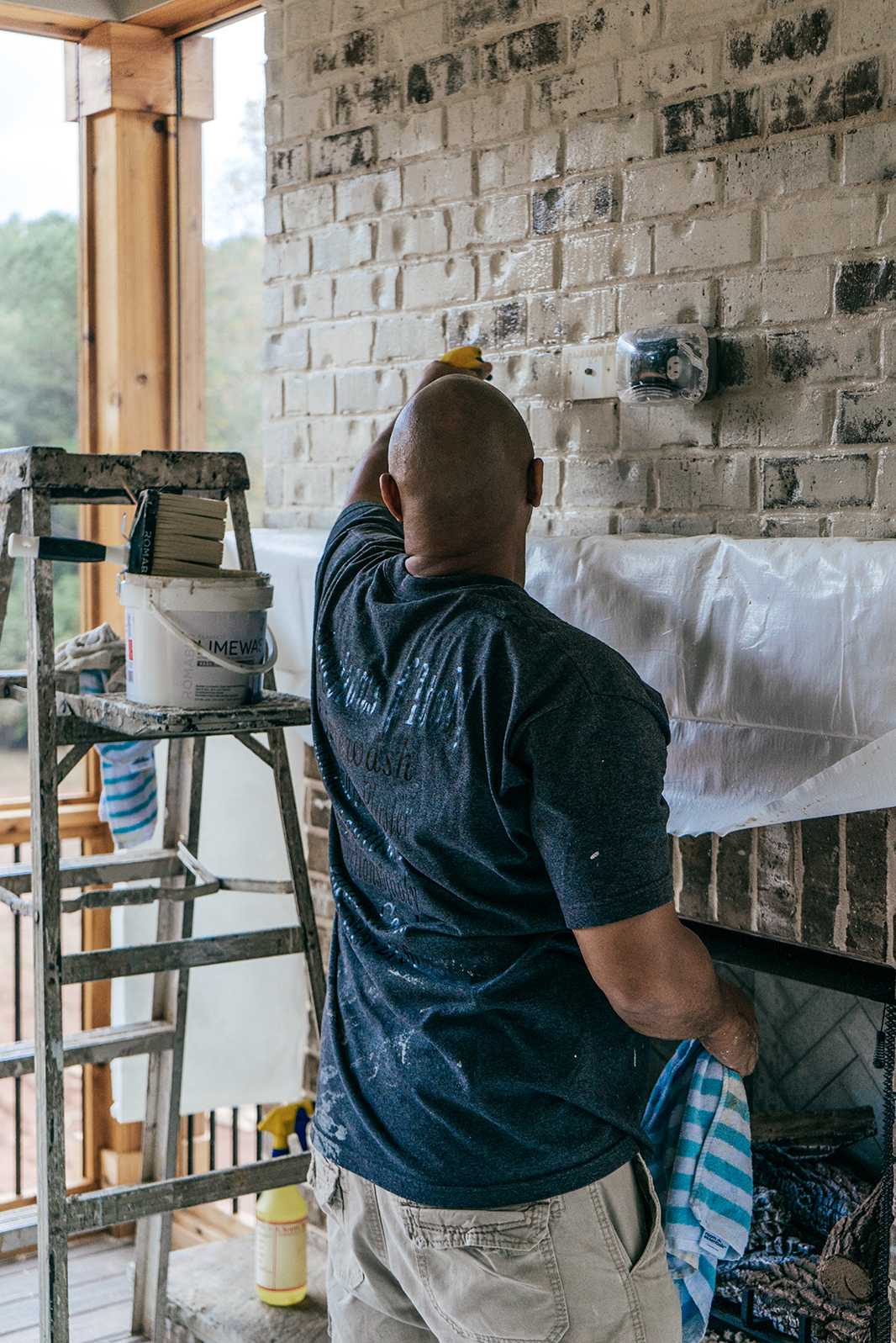 "We can't believe that this is our home now! We couldn't love it more! It's no longer a boring brown brick, but instead a polished Modern (faux) Farmhouse reflecting our unique, modern style within.  Our favorite part is the little bits of brick peeking through, providing that warmth and character we were hoping to achieve with Classico Limewash by Romabio Paints."
–Holly Lauritzen, Our Faux Farmhouse