.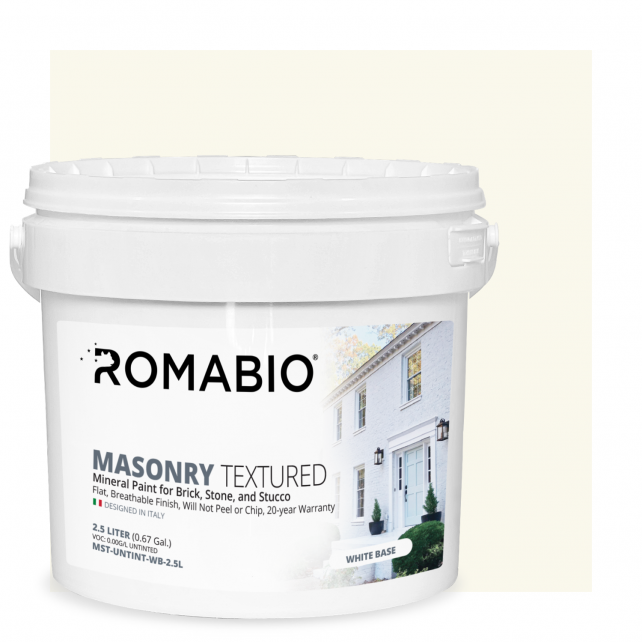 Masonry Textured Paint
Buy Now

Available Colors:
Avorio White
Color Description
A perfect neutral white that works with cool and warms tones.
Actual colors may vary due to computer and mobile screens displaying them differently.
Available Sizes
1L/1QT 2.5L/0.67GAL 15L/4GAL
HOW TO CHOOSE COLOR
Product Description
Masonry Textured is an Interior/Exterior Mineral Paint ideal for absorbent, unpainted masonry for extreme durability. A permanent, beautiful flat finish handcrafted in Italy. No additional primer for unpainted brick or stone, and if applied properly, it will not chip, peel or flake off backed by a 20-year warranty.
Beautiful, natural flat finish with aggregate in it (not shiny), and handcrafted in Italy.
A permanent, breathable mineral coating made for extreme durability.
20 Year warranty, if applied properly
No additional primer needed for unpainted masonry
Toxin-free and environmentally friendly.
Superior coverage and easy to use.
Surface Type
Interior/Exterior Absorbent, Unpainted Brick & Stone (No Primer needed); Unabsorbent Or Glossy Brick/Hardie Board/Cementitious Board/Concrete/CMU Block/ Portland or Gypsum Stucco (MicroGrip Primer)
Coverage
| | | | |
| --- | --- | --- | --- |
| 1 Coat | 1L/1QT | 2.5L/0.67GAL | 15L/4GAL |
| Square Feet | 50-70 | 130-180 | 800-1100 |
Application Requirements
PREP Prepare and clean the surface. Dampen masonry surface.
DILUTION Product must be diluted prior to application
COATS 2 Coats
TOOLS Apply with a brush, roller, or sprayable only with an aggregate hopper
DRY TIME 4-8 Hours
TOUCH UPS Very flat finish. Easy and can be done at any time.
Recommended Dilution
| | | | |
| --- | --- | --- | --- |
| RECOMMENDED | 1L/1QT | 2.5L/0.67GAL | 15L/4GAL |
| 20% | 200ml | 500ml | 3L |
| 25% | 250ml | 625ml | 3.5L |
| 30% | 300ml | 750ml | 4L |
"I did a side-by-side comparison of the Masonry Flat product and one of your competitors and found that it had much better coverage. It adhered to the surface better and wouldn't scratch or chip off. We are really pleased with it and with only 2 coats needed, it has better value and performance."
– Randy Parks
Romabio Textured Paint Highlights
20 Year Warranty
Romabio Masonry Paints are Italian designed mineral paint technologies that have been proven over time. They have a similar molecular structure to that of the brick and masonry surface, and are highly permeable (perm rating of 70+). This contributes to a breathable wall system which means water moisture contained in the parts of a structure or surface can diffuse outward without resistance, keeping walls dry and preventing structural damage over time.
They have extremely high-UV resistance and are naturally mold-resistant. We guarantee they will last 20 years with no peeling or chipping when applied properly as a 2 coat system.
Environmentally Friendly
Romabio Masonry Paints are BIO (bio-logical), made from nature. They are not acrylic or latex paints. They are mineral based products different than any other paints in the industry and are derived from sustainabile materials to create a natural, breathable coating.
They go beyond just Zero VOC and are toxin-free, odorless, do not contribute to asthma, and hypoallergenic. All backed by 3rd party scientific testing, you can trust our paint is safe for you, your family, and the environment.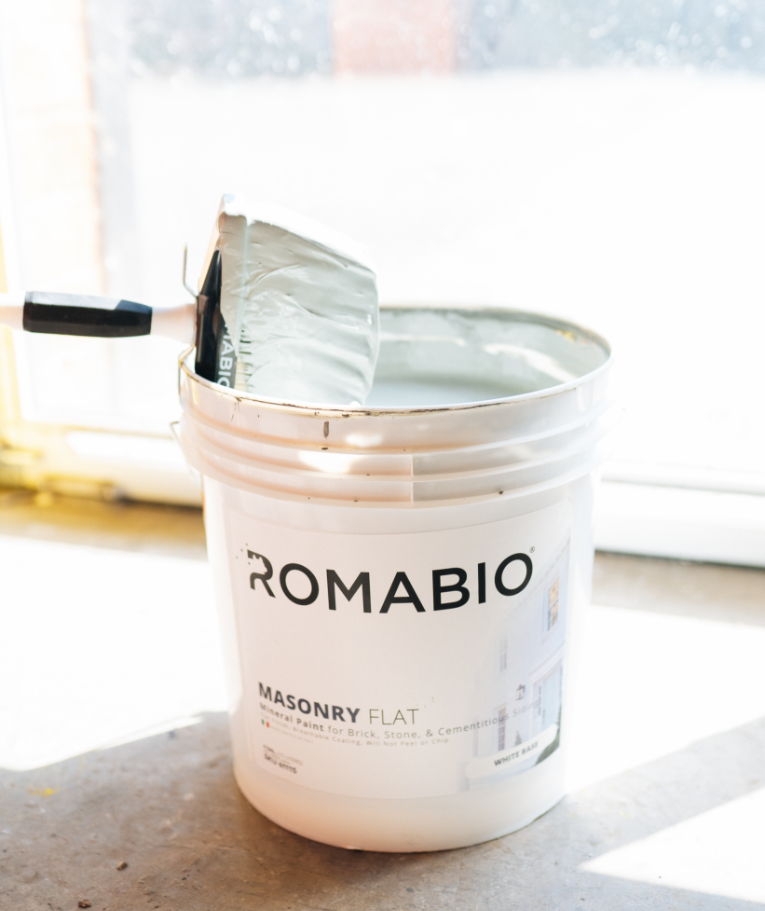 "We don't get the complaints when we use Romabio paint products as our customers are very happy with the transformation of their house, and we've never, not made a customer happy with these products."
-Daniel Murrey, ServiceFirst Painting