We talked about how to properly dispose of leftover paint in last month's blog post, but now we want to give you some creative ways to use your leftover Classico Limewash, Lime Slurry or other Masonry Paint.
Without question, if you have enough leftover Classico Limewash or Lime Slurry that a friend or neighbor could use to transform their fireplace, gift them your leftovers! That is a total win-win scenario.
But, if you have just a little bit left, here are some creative examples of how other homeowners used leftover Romabio product to upcycle existing home decor items, and add updated, beautiful accessories throughout their home. We hope this inspires you!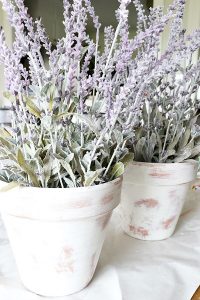 #1. Transform Terracotta Pots or Vases
Terracotta pots are perfect for adding height and depth to an outdoor garden bed or patio and are ideal as indoor decorative accents too. But terracotta comes in many forms, not just traditional planters.
While Classico Limewash adds a nostalgic, aged appearance that helps tone down that bright new burnt orange hue, Lime Slurry over terracotta creates a modern yet romantic, highly textured finish. Here we have both examples.
Classico Limewash
As with brick or stone, you will want to have a water spray bottle to dampen the surface of the terracotta pot before applying the premixed Classico Limewash. You can be liberal with the application and brush strokes to create an interesting appearance. Use a clean rag to wipe off the Classico Limewash in areas you would like the terracotta to peek through, creating a traditional antiqued terracotta pot look. It is that simple
"Classico Limewash isn't just for bricks! Thinking outside the box, I was able to create this DIY limewash terracotta lavender planter in less than an hour." – Jennifer Fancher
July,

2022 –

Romabio

Craft Night, Haven Conference for Bloggers, Atlanta, GA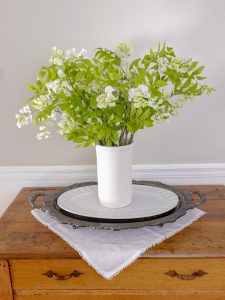 Lime Slurry
Using your leftover Romabio Lime Slurry on a terracotta pot, vase or another accessory is quite simple. Just like when you apply it to your brick or stone, make sure you dampen the terracotta surface, then just paint the Lime Slurry onto your terracotta accessory. If you have enough, two coats are ideal for a beautiful textured finish, but even one coat will completely transform any terracotta piece.
Here we have examples of both a terracotta vase made over with Lime Slurry in Grace Note White, and a wide mouth planter featuring Lime Slurry in Cristallo White.
"The finished product is such a different look from what I've seen before. I'll definitely be trying this on other projects!" Jen from Noting Grace
Before & After: Lime Slurry on Terracotta Wide Mouthed Planter
#2. Transform Wood Accent Pieces with Classico Limewash

Years ago, blogger Nini of Flowers by Nini transformed her brick fireplace with Classico Limewash in Riposo Beige, then used the leftover Limewash on her antique Singer sewing machine table. She cleaned it very well, then lightly sanded it before applying a generous amount of her leftover Classico Limewash over the wood surface.
The result was beautiful and still one of her favorite accent pieces in her home.
She has since lime washed a second fireplace in her basement, and we cannot wait to see what she uses any leftover product from that project on!
#3. Modernize a basket
Recently Jen, the creator of the Noting Grace blog, used leftover Classico Limewash to brighten and update an antique magazine basket.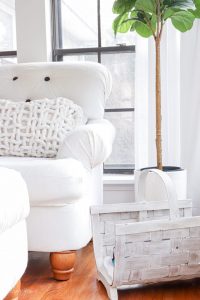 "I was about to donate this old basket I had for years to my thrift store. But with this creative way to give it a fresh, new look – I now use this basket every day." – Jennifer Fancher
Quick note from Jen: When you wet wood, the grain tends to raise. You can see it a bit on the pieces that look a little fuzzy.
She outlined all the steps in a Reel which has been viewed thousands of times by home décor enthusiasts.
Have a project you want to share where you used your leftover Classico Limewash or Lime Slurry? Post it on social media and tag us @romabiopaints.
Ciao for now!
Leslie