Affordable DIY Home Projects for Painting
There's little that can transform your home as quickly and easily as a fresh coat of paint. Whether you're adding an accent wall, putting up a pattern, or doing something more unique, new paint will always freshen a room.
And the best thing is that painting really isn't that hard. Sure, it can get a little messy–but that's nothing that drop cloths won't fix. Make sure you've protected your floors and furniture, and then it's really up to you and the brush.
We've compiled four Affordable Home DIY Projects for Paint that are sure to liven up your living space. Let's take a closer look:
Interior Limewash Instead of Wallpaper
Wallpaper looks so good because there's a routine pattern, and we're naturally wired to like patterns of images. But do you realize how easy it is to create your own decorative wall finish with just limewash? And you don't need to be Michaelangelo painting the Sistine Chapel to do it.
First, unless you're advanced in your painting skills, ignore geometric patterns. What we're looking for is a subtle movement of white or color. Think of buildings you've seen in Italy–or maybe you've even visited there–and remember how the walls had a little effect of movement.
If you're not sure you can pull this off for your whole interior, try it as an accent wall in a small room, like one wall of the bathroom. See if you like it and if you think you can expand it to somewhere larger.
Painted or Limewashed Masonry Walls
We talk all the time about the beauty of a classic, whitewash or limewash-painted masonry or brick house, but have you ever considered giving the limewash treatment to Exterior walls, like retaining walls, brick yard walls, even low brick walls that enclose and elevate the lawn? A little limewash paint can go a long way.
It can either be used to match a whitewashed home to the brickwork surrounding it, or the brickwork can be an accent, adding a bit of Mediterranean flair to the yard and house without giving the home the full limewash application.
Never underestimate the power of a little bit of color (in this case white) to transform the beauty of your home.
Color-Blocked Wall Painting or Limewash
Think of a color-block wall painting as wainscotting but with paint or limewash. With color blocks you line off a horizon on your wall, either low, the level of wainscotting, or even high at chest level, and then you do a two-tone paint job of your wall.
Typically, you want the lower part of the wall to be the darker color and the upper part to be lighter. This adds drama to the room and gives both a feeling of separation and a feeling of illumination. It's a focal point of home decor.
Limewashed Brick or Masonry Accent Wall
An accent wall is always a great way to liven up a living space, be it a bedroom, a living space, or a kitchen. Limewash instead of paint is a unique spin on the technique, something that brings in the aesthetic appeal of the accent wall, but keeps it different from everyone else's home.
Limewashed accent walls are also a great way to bring in the accent wall into a brick or masonry space when you don't want to paint latex paint over it. A distressed or even solid limewash finish keeps the authentic vibe of a stone, brick, or masonry wall, while revitalizing it with something new.
Romabio Limewash Products
Romabio has two products that give you the effect of limewash. The first is Velatura Mineralwash, an authentic mineral-based paint used for Interior Drywall to create subtle limewash movement effects in 2-easy-steps, no primer needed.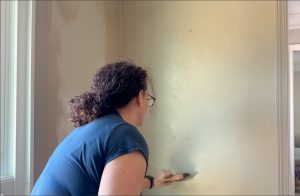 This artistic paint can be applied by multiple applicators on the same wall giving you time to work it. And, without needing an additional primer, you can paint a room in one day!
Velatura Mineralwash isn't hard to apply–you just need to cross-hatch it with a Romabio Spalter Brush.
The other product is Classico Limewash, an authentic slaked-lime paint for Interior/Exterior Brick or other absorbent masonry to create instant wash-off effects. It's an easy, 3-step process for distressing and applying.
Painting limewash is a little different from traditional paint, but it's still easy, and it's a great home DIY painting project.
Fill out the application and we'll connect you with a Professional Painter in our network.