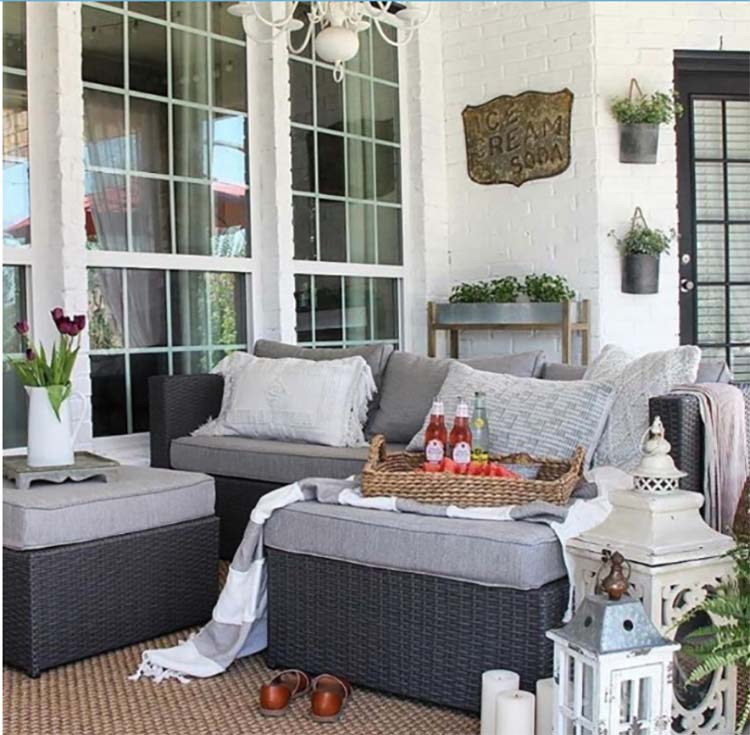 Achieving the perfect farmhouse look for your home is easier than you think. There's a good reason for this timeless and beautiful trend. Farmhouse style is very classic, and it's about simple choices with a clean color palette, precisely what you might see on a farm. I love how Little Vintage Nest describes it, "Instead of bright and flashy decor, you're looking for soothing color combinations, natural elements, and texture."
That's where we have the best options for you. If you have brick, stone, or another masonry surface, and you've been dying to get an authentic farmhouse look, but don't know where to start, then keep reading and check out the examples below.
Classico Limewash: New Farmhouse
(Left) Romabio Classico Limewash applied as a solid finish with no distressing by home decor and lifestyle blogger, Jen, of
Noting Grace
. Color is
Nube Gray
. (Right) Romabio Classico Limewash applied as a DIY in a solid finish with no distressing by
Clare and Grace Designs
(also shown in the main photo at the top). Color is
Avorio White
.
Classico Limewash: Antique Farmhouse
BioDomus I Masonry Paint: Ultimate New Farmhouse
(Right) Romabio BioDomus I in a custom color applied by the PRO applicator team at
Kneeland Renovations
in Houston, TX. (Left) Romabio BioDomus I in a custom color applied by the PRO applicator team at
Redemption Painting
in Louisville, KY.
BioDomus
can only be applied as an opaque coat, as a true Masonry Paint. It does not weather, and has 20 year warranty.
Romabio has the perfect paints for masonry, for a reason.
With two different paint products that are equally high-quality and beautiful to choose from, we can help you achieve the painted, flat finish you're looking for. But first, it's important to clarify the product differences, so you can make the best decision for your home. Classico Limewash and BioDomus I Masonry Paint are both:
Breathable
Low maintenance
Natural, flat finish
Made from minerals
Safe for your lawn, pets, or trees
But application varies, and they will behave differently as the years pass. The key difference is how they are formulated and will behave over time.
Made from aged, slaked-lime from Northern Italy. It is applied as one coat, no primer, in two different ways:
1). Antique Lime wash Finish for Classic Farmhouse Look: You can apply it as a traditional lime wash, exposed brick finish that will create an antique farmhouse look. This is the single most unique and artistically flexible masonry paint on the market, for that reason.
2). Solid Finish for New Farmhouse Look: You can apply it as a solid, opaque coat for a beautiful, fresh farmhouse look. However, because it is formulated to patina, it will slowly weather over time adding character and exposing the brick or stone surface. Depending on the elements this process could take a couple of years or decades.
Made from potassium silicate, a mineral based paint formulated for masonry for extreme durability. It is a permanent and beautiful, flat finish, that is very natural looking. It requires two coats, no additional primer, has a 20-year warranty and will not peel or chip off when applied properly. It will give you the solid, opaque finish for a new farmhouse look and last for decades.
Classico Limewash is sold at
650 Home Depots
around the country in 2 colors – Bianco White and Avorio White.
HomeDepot.com
offers all 7 pre-tinted colors, and the Romabio Masonry Brush for sale with free shipping with purchases over $40.
Independent Retailers
carry Classico Limewash and BioDomus I Masonry paint can custom tint to almost any color. Check out
Where to Buy
on our website, to find the store that meets your needs, near you.
I hope this helps you decide which product to use. I've included more of our favorite examples of practical and artistic uses of farmhouse style with Romabio products, below. If you have more questions, we have an amazing support team that can help answer them, so just email
[email protected]
.