Choose the right paint for your brick or stone.
Do you know certain paints are not ideal for certain substrates? Painting Exterior brick is becoming a more common practice, but it's important that you to choose the right paint so you can keep your brick looking beautiful with a natural finish, like the brick itself.
In the past, experts have not recommended painting Exterior brick because water and moisture can cause damage and maintenance issues. But, if you use a breathable, mineral paint that does NOT seal the brick and allows the moisture to release, then you won't have these issues.
Romabio has specially formulated Romabio Masonry Paints, that allow you to paint your Exterior brick, stonework, or other masonry with an extremely durable, long-lasting product that won't peel or flake off. Our paints have high-UV resistance, are naturally mold-resistant, create a beautiful, flat finish – and come with a 20-year warranty when applied properly. Painting Exterior brick or stone is an investment and we've created a product that will last. Years down the road, you may want to update your curb appeal to match current trends. No problem, you can repaint easily like any other home update.
Masonry Flat
Our most popular product for a traditional painted finish.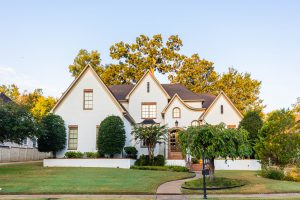 Masonry Flat can be used on brick or stone. It is an extremely durable, permanent coating that can be tinted to the color of your choice at a local Retail Store, It lasts 20 years with no peeling or chipping off.
It is 2 coat system (no additional primer) for unpainted, absorbent brick or stone. For all other surface types, you must apply Romabio MicroGrip Primer as a first coat, then add 1-2 coats of Masonry Flat.
Masonry Textured
For a flat, solid, permanent finish with aggregate that creates a slight texture.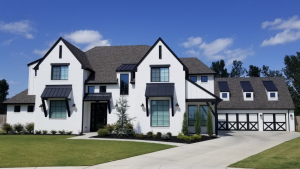 Masonry Textured is also extremely durable, can be tinted to the color of your choice at a local retailer, and lasts 20 years with no peeling or chipping off.
Masonry Textured will look slightly different than Masonry Flat because it contains aggregate. On rough brick, it will create a smoother finish, but on smooth brick it will create a slight texture. It works great for smoothing rough concrete, cinder block, or other rough masonry surfaces, as it will fill in and help the surface to appear softer and more uniform. It can also create a stucco-like finish with paint, used as a thick finish coat.
It's a 2 coat system (no additional primer) for unpainted, absorbent brick or stone. For all other surface types, you must use Romabio MicroGrip Primer as a first coat primer, then add 1-2 coats of Masonry Textured.
For other ideas for textured masonry paint, be sure to read our blog about how to choose the perfect finish as we offer Lime Slurry as another great option.
Customer Review

I did a side-by- side comparison of the Masonry Paint product and one of your competitors and found that it had much better coverage. The Masonry product adhered to the surface better and wouldn't scratch or chip off. We are really pleased with it and it has better value and performance.

– Randy Parks, Special Projects Coordinator
Featured Designers & PROs
A very low maintenance paint for brick, stone, concrete, and other masonry surfaces.
Romabio mineral-based paints are different than any other paints in the industry. They are natural products that have a similar molecular structure to that of the brick and masonry surface and are highly permeable (perm rating of 70+). This contributes to a breathable wall system which means water moisture contained in the parts of a structure or surface can diffuse outward without resistance, keeping walls dry and preventing structural damage over time, and resisting moisture that contributes to mold growth, making them naturally mold-resistant.
Mineral-based paints have an extremely high-UV resistance, extending the performance of the product. The chemical fusion with the substrate and the UV stability of the binder are the fundamental reasons for the extraordinarily high lifetime of silicate paints.
Interested in other options for painted exterior stonework, then check out these ideas for stone.
Need a PRO?
Romabio Paints are extremely DIY friendly, but if you are painting the Exterior of your house and need a PRO, we can help connect you with a Preferred Romabio PRO Applicator.
Fill out this form and we'll connect you with a professional painter in our network.
How to Order
Romabio Masonry Paints are available at paint stores across the country. Use our Store Locator to find one in your area. If you can't find one near you or you want to buy online, you can purchase Masonry Flat and Masonry Textured on Amazon in 15 pre-tinted colors!
Happy Painting!