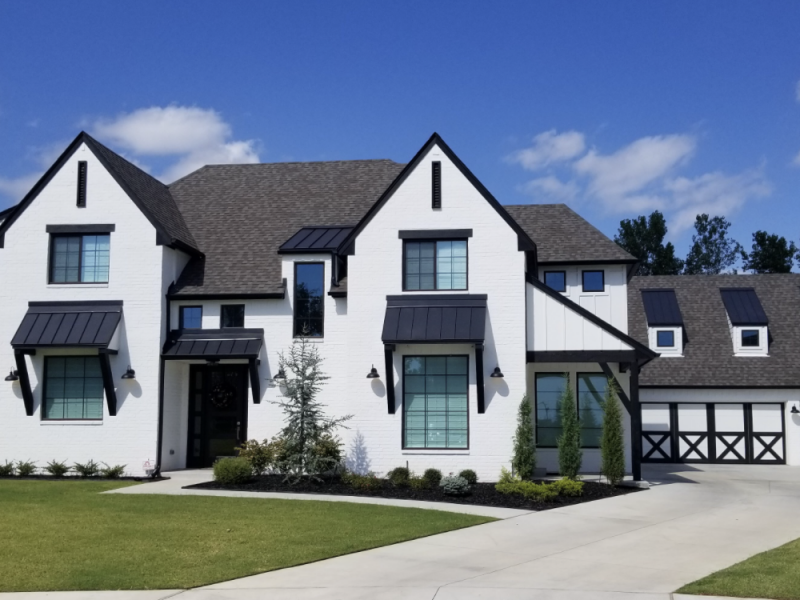 Textured paint is a beautiful way to update the exterior of your home in a unique way.
We've talked a lot about distressed vs. modern finishes and how to decide if you want an antique farmhouse look or a modern, clean aesthetic, but I'm going to take it one step further.
Romabio has carefully designed a line of textured paints that can give you a range of aesthetics that you can't find anywhere else.
By continuing to source authentic European ingredients, we offer many finishes including lime paints, mineral paints, and plasters that go beyond a common, full coverage painted look.
What Is Textured Paint?
Made specifically to coat brick, stone, stucco and other textured surfaces, textured paint is different from typical shiny acrylic exterior paint.
Romabio mineral based textured paints range from coatings with small grains that create subtle texture, to thicker coatings that significantly hide bricks and fill mortar joints all while keeping the bricks breathable.
You can achieve slightly different looks with our different textured paints.
First, there's Masonry Textured, a mineral based masonry paint that is durable, long lasting and can be custom tinted to both light and darker colors. It is like our Masonry Flat but has a slight aggregate in it which creates a textured look on a smooth surface, or it can smooth or fill rough surfaces and subtlety tone down heavily textured surfaces. It comes with a 20-year warranty when applied as directed.
Next, there is Lime Slurry, made from authentic slaked lime and is thicker than Masonry Flat. There are two looks you can achieve with Lime Slurry. When applied by itself with 1-2 coats, you can get a beautiful textured paint as an opaque, full coverage finish heavier than our Classico Limewash. Or, when applied with Marmorino GF it can be very thick, thick enough to fully fill recessed mortar joints and hide brick lines.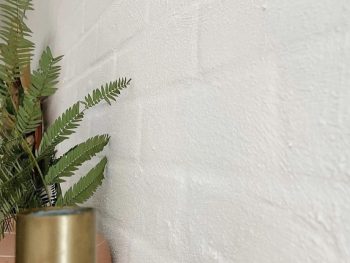 Lime Slurry is an artistic product and can only be tinted to white base colors, however, you can achieve the color you want with one coat of either Masonry Flat or Masonry Textured on top, in the desired custom tint.
The key difference between Masonry Textured and Lime Slurry, is that Masonry Textured contains small aggregate giving you a hint of texture. Lime Slurry by contrast, is an extremely thick paint, almost like a plaster, that can be applied as heavy as you want, allowing you to see the brush strokes, and giving you a parge look.
How To Decide Which Textured Paint To Choose
A couple of questions to ask yourself when deciding which finish you want –
· How rough is my brick, stone, or other masonry?
· How deep are my mortar joints?
· How much of the brick lines do I want to see?
· Do I want to see subtle grains or aggregate when looking up close?
The key is thinking about how the paint will work with your current masonry surface. Some brick is super rough so Masonry Textured would make it look smooth, whereas, with Lime Slurry, you can be artistic and create a super textured, full coverage aesthetic the way you want.
Painting Masonry
Prior to painting, you'll need to prep the surface properly so that the textured paint will be easy to apply. When using mineral based paints, your brick and stone won't need a primer if they are unpainted and absorbent, but you'll definitely want to clean off any debris, or other gunk. Nice thing with mineral based paints is the surface must be damp before you start painting so you can clean, prep, and paint in the same day.
Now you're ready to paint. Be sure to read the instructions on the back label of the bucket so you can see the proper dilution and application instructions. It's best to work one wall at a time, corner to corner. For Masonry Textured, you can apply with a brush, roller, or a professional aggregate sprayer. For Lime Slurry, it can only be applied with a brush and we recommend you use the Romabio Large Masonry Brush. If you have a particularly large area to paint, it's a good idea to bring in some help. If you need a PRO recommendation, just fill out this form and we can connect you with an experienced applicator.
If you're having trouble identifying the right textured paint for your needs, Romabio is here to help. Check out our Instagram for design ideas and inspiration. Both Masonry Textured and Lime Slurry are Interior and Exterior mineral paints that provide beautiful flat finishes and can transform your home.