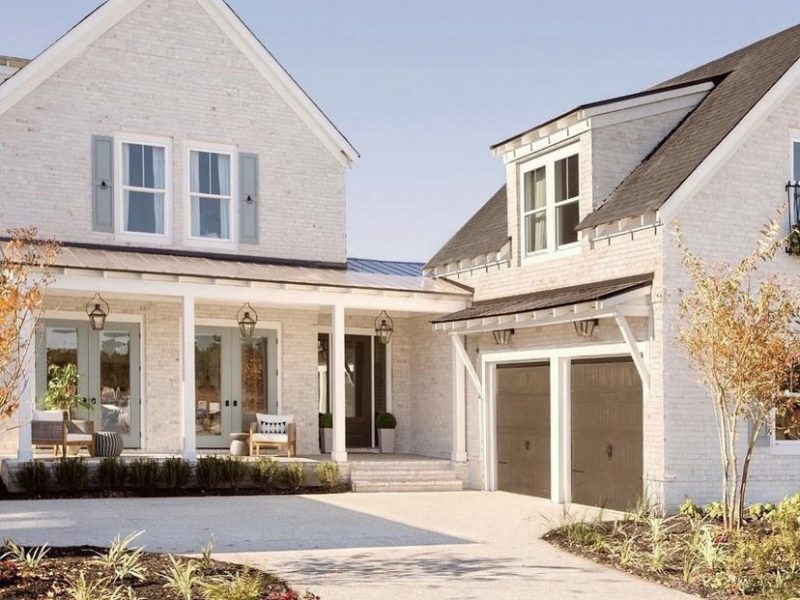 Do you get excited when you walk up to your house and love what you see? If not, then that, my friend, might be the best reason to paint your brick.
I love the look of brick. But some brick is outdated, or too busy to appreciate the overall design of a house. Whether you have a certain shade or color that was popular in the '70's, 80's or even 90's (and folks, that's a long time ago), your time has come for an updated look.
Brick is such a wonderful building material to use for your home because of its low maintenance, ability to maintain temperature, and its timelessness. But not all brick is created equal. Not everyone has gorgeous brick with a perfect mortar color like Chris Loves Julia.
Some of us live in homes built a long time ago and they're due for a much deserved update. We see the trends of painted brick and wonder, 'should I do it?' I'm here to say, that YES, you should!

These are the reasons why you'll love your painted brick:
#1. Curb appeal baby!
You get to be the designer and update your home in the look that you want when you paint your brick. You could go modern, clean aesthetic with an all-white like Shea from Studio McGee, or choose an Old World feel with authentic lime wash like Lauren from Bless'er House. Or keep it in between with a thin lime wash coat like HGTV designer, Egypt Sherrod from Season 3 of HGTV's Rock The Block.
#2. It's still low maintenance.
If you choose a paint that is breathable and formulated for the brick like our mineral-based Masonry or Lime paints, you will not seal the surface like an acrylic, allowing your brick to breathe. And, the Romabio finishes will last a long time, keeping it a low maintenance dream
#3. Finding a PRO paint applicator is easy.
We highly recommend an experienced PRO paint applicator when you are painting a 2+ story home. You don't want to rent scaffolding or have your loved one get hurt while on a roof. Plus, Romabio makes finding a PRO easy. We have a huge network of experienced paint applicators with our products, and we can connect you to one in your area. If you have a smaller, one-story home and want to attempt DIY, be sure to watch our How-to videos.
#4. You can change it later.
If you feel like you may change your mind at some point and pick another look or color when you use Romabio masonry paints, you can easily repaint it down the road. Trends for the exterior of a home usually last about 20 years, so the painted brick trend isn't going anywhere. But if you want flexibility to change it to something different down the road, with Romabio, you can.
#5. 20 year warranty – yes please!
If you use Romabio Masonry Flat or Masonry Textured, and apply as directed, it comes with a 20-year warranty. We stand behind our products and know that they won't peel or chip off when applied properly. We don't have a warranty for Classico Limewash as that paint is formulated to patina and will change based on the weather exposure, giving its' natural beauty. But rest assured, it lasts for a long time and can easily be touched up because of its' flat finish.
Take a look below at more inspiration from designer Egypt Sherrod of Rock The Block fame, and see why she won the latest competition! She beautifully designed a Charleston, SC home with a painted brick exterior featuring Classico Limewash in color Avorio White, diluted 50% . I love how she didn't do too much of a wash off effect, but rather painted it with a thin veil look. Egypt regularly uses Classico Limewash in her other projects, so make sure to tune in to her ongoing HGTV series, Married To Real Estate.
Video Tour Of Egypt Sherrod's Winning Home From HGTV Season 3 Of Rock The Block
Excited to paint your brick, but having a hard time deciding between a distressed or modern finish? Learn how to pick the right Romabio finish for your exterior, here.
For more design inspiration, follow us on social media @romabiopaints and tag us when you are done. We love to see your homes.
Ciao,
Leslie